Scene Around
What a talented people we are ...
I am writing this column in advance as usual. It is actually the first night of Chanukah. I made matzo ball soup, latkes, fried chicken ... all with NO calories!
We recently lost the talented and wonderful Stephen Sondheim. He was 91 years old when he expired. He was (as you know) a fabulous composer and lyricist. He was even praised for "reinventing the American musical."
He wrote the lyrics to "West Side Story" and his best-known works were many of my favorites ... "A Funny Thing Happened On The Way To The Forum," "Company," "Follies," "A Little Night Music," "Sunday In The Park With George" and so many other hits!
Stephen was the recipient of eight Tony's, an Oscar, Grammys, A Pulitzer prize and so much more!
Of course, Stephen was Jewish and born in New York City. He grew up on the upper west side. He will be sorely missed.
This was a shock to me ...
I never suspected that Frances Rose Shore (oops, I should have used her stage name, Dinah Shore) was Jewish but she was from a Russian-Jewish family!
She, of course, was a fabulous singer, actress and television personality. (She even tried out for one of my positions as singer for Jimmy Dorsey's Orchestra and didn't make it. Go figure.) She grew up in Nashville, Tenn. But when she was older, moved to New York City to audition for orchestras and radio stations. Of course she made it to stardom! (And well deserved!)
Another favorite entertainer ...
Joseph Abraham Gottlieb was known professionally as Joey Bishop, a wonderful comedian and long time host of his own television show. I used to see him whenever I worked in Vegas. He was a member of the "Rat Pack" with Frank Sinatra, Dean Martin, Sammy Davis Jr. and Peter Lawford.
Joey's ancestry was Polish-Jewish. He was born in the Bronx but raised in Philadelphia. He served as a sergeant in the Army during WWII. (I miss him very much.)
A note from World Jewish Congress ...
I received the following note from BETTY EHRENBERG, executive director, World Jewish Congress North America, and pass part of it along:
"This year again, global Jewry is the scapegoat for much of what is wrong with the world. In communities not so different than those here in Central Florida, the Jewish people have been blamed for everything from the spread of the COVID-19 pandemic to rocket attacks against Israel. Anti-Jewish and anti-Israel hatred that was already on the rise continues to grow. We must fight back.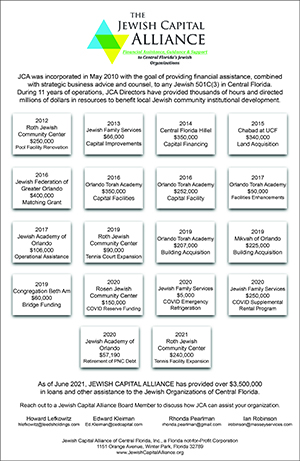 The ancient Talmudic principle of Kol Israel Arevim Zeh ia-Zeh (all Jews are responsible for each other) is the ideal on which the WJC was founded 85 years ago.
If you would want to learn more and find out how to help fellow Jews, phone the WJC at 212-894-4770 or write to http://www.worldjewishcongress.org
And speaking of Chanukah ...
I recently received this note from the Jewish Pavilion and pass it on to you:
"JUNE BROWN will be turning 100 years old soon. While she is not the first octogenarian to celebrate her birthday with the Jewish Pavilion, she may be the liveliest 100-year-old you could ever imagine.
June is a retired interior designer, volunteer leader, and talented artist. She has lived at Cascade Heights for 5 years. June never misses an activity. She especially loves Jewish Pavilion Shabbat services, holiday festivities, Yiddish classes and baking sessions."
The note continues, "Orlando has no Jewish home for the aged. The Jewish Pavilion makes every facility feel like home for our Jewish residents by making sure that no one is forgotten."
(Let's not forget to help out the Jewish Pavilion!) To learn more about the Jewish Pavilion, phone 407-678-9363 or write to http://www.jewishpavilion.org.
And since we're on the subject ...
I received a lovely card with the photo of SHIRLEY SCHOENBERGER and JUNE BROWN, who I wrote about in this column.
Seniors On The Go ...
On Monday, Dec. 13, they will conclude the reading of Bereshit (Genesis). In honor of this milestone, the group will sing their way through the first book of Torah with Cantor KIM SINGER.
On Monday, Dec. 20, HARRIET WEISS will entertain with Jewish humor.
And on Monday, Dec. 27, Chris Bouille, singer (Elvis, Neil Diamond songs) will entertain. 
The Jewish Federation ...
Just a reminder, on Sunday, Dec. 12, 7 p.m. at the Roth Family JCC, there will be a 2021 Jewish Community Study with Dr. LEONARD SAXE. And on Monday, Dec. 13, 7 p.m. there will be the same by Dr. MATTHEW BOXER at the Jack and Lee Rosen JCC.
For further information, phone the Federation at 407-645-5933.
One for the road ...
(I'm always thinking of food!)
"The Jewish people have observed their 5782th year as a people" the Hebrew teacher informed his class. "The Chinese have observed only their 4695th. What does this mean to you?"
After a reflective pause, one student volunteered: "Well, for one thing, the Jews had to do without Chinese food for 1063 years."