Scene Around
First, before I begin my column, I want to express my condolences to the family of the late Madeleine Albright as well as to all of us. (She was quite a loss.)
Madeleine was the first United States woman Secretary of State under President CLINTON. She immigrated with her family, (Jews who converted to Christianity) to the U.S. from Communist Czechslovakia. Unfortunately, she said, her parents never told her about her Jewish ancestry and heritage. (She learned of this in 1997). May she forever RIP.
"High Anxiety". What a sweet Surprise!! ...
The other night I watched a comedian and successful producer that I truly adore, Melvin Kaminsky, (WHAT! YOU DON'T KNOW HIM? How about MEL BROOKS?)
Born in Brooklyn, N.Y. like me, with Polish and Ukranian ancestry, like me, and good looking like me (Oh Shut Up!), Mel was a well deserving EGOT winner. (an Emmy, a Grammy, an Oscar, and a Tony) and many other honors. And, of course, I loved, loved, loved him! (His long time love and wife, Anne Bancroft, is deceased so I can say that!)
Mel grew up in the Williamsburg section of Brooklyn, a rough neighborhood. (He claims that's what brought him to comedy...as a survival tool!)
Mel was starring in one of his great movies "High Anxiety" and was his usual fabulous self!
Also starring in the movie was another talented comedian (also Jewish, of course!), Madeline Kahn.
Unfortunately, Madeline died in her 50s from ovarian cancer.
I will never forget her and her wonderful work!
And, also in "High Anxiety" was another of my favorites ... Harvey Herschel Korman. Harvey never ceased to make me laugh ... especially on the CAROL BURNETT television show.
Unfortunately, we lost him in May of 2008 at the age of 81. Harvey was of Russian Jewish decent.
(It seems all my favorite performers were Jewish. Talent baby, TALENT!)
World Jewish Congress on Ukraine ...
I received the following letter from President Ambassador RONALD S. LAUDER,of WJC:
"The WJC is always on the ground, in more than 100 countries across six continents, working to provide support to our network of global Jewish communities. Today, at a time of unprecedented crisis, challenge, and conflict, when the people of Ukraine and more than two million refugees from Ukraine are suffering, and as we face a critical moment in history, the WJC is helping in every way possible.
Through the WJC Ukraine Humanitarian Relief Effort, we are raising critical funds. Together, our support will go a long way to ensure that those displaced by the current tragedy, and the people of Ukraine who are enduring horrific hardships, will receive the aid they so desperately need for food, water, shelter, medicine, and resettlement, among other lifesaving resources."
For information on how to help in any way, write to WJC, American Section, 501 Madison Ave, New York, N.Y. 10022.
News from the Jewish Pavilion ...
Many thanks for the matzah ball soup!
PENNY GOLDSTEIN is no longer working for the Jewish Pavilion, but they want to thank her for making delicious matzah ball soup for the residents at Harbor Chase. The Jewish Pavilion welcomes JUDY APPLETON as their new program director in Penny's place.
I recently heard from a gal I admire and adore ...
LYN EISENBERG always sends me funny stuff, jokes and humorous thoughts. (And do I need them in these depressing times!)
She said: "Beer is now cheaper than gas. DRINK. DON'T DRIVE!"
(I'm sure she is only making us smile. She meant "DON'T DRINK AND DRIVE!")
The Jewish Federation of Greater Orlando ...
Presents BOLD CHOICES!
To us, bold means taking risks, living with courage, daring to make a change.
BOLD nominees are women who are making a difference - in their own lives, in the lives of their families and friends, in Jewish Orlando and beyond. Their stories are filled with perseverance, selflessness, and soaring against the odds. These bold women are not afraid to stand up for their beliefs and values, even in the most difficult of situations.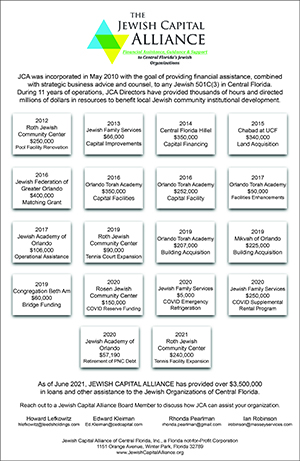 There will be an evening of story and song with MICHELLE AZAR at Harriett's Orlando Ballet Centre on Thursday, April 28th from 5:30-8:30 p.m.
Join Michelle Azar on her quest to balance her way from Baghdad, to Brooklyn and beyond. With an angelic voice, deep sentiment and humor, Michelle tells a timely story of a family's love and dysfunction set against an historical and redemptive background.
Michelle Azar is an NYU Graduate with a BFA in Drama and an MA in Drama Therapy. She grew up singing in the Lyric Opera of Chicago and has performed all over the world. After working with children in Israel, she met and married her current rabbi husband and now lives in LA where she performs on Television, Film and Stage, for which she has garnered awards and much praise in the press. Her new web series based on her life will be launched this February. Additionally, she works as a cantorial soloist and a yoga teacher. She integrates all of these talents as she shoots toward integrity and compassion for all people, regardless of race, religion, or sexual identity. Her writings can be found in Kveller, The Jewish Journal, and in her blog, Yoga Breaths on word press.
For further information and how to purchase tickets, phone the Federation at 407-645-5933.
Winter Park Playhouse ...
Fresh off the popular run of The Marvelous Wonderettes: Dream On at The Winter Park Playhouse, ANASTASIA REMOUNDOS will bring her dynamic vocals to a brand new solo cabaret Sing Happy! in The Winter Park Playhouse Spotlight Cabaret Series, April 13 and 14, 2022. Playhouse Musical Director CHRISTOPHER LEAVY will accompany on piano. 
If you love "Broadway Pop & The Songs of Life"...(and NO RAP!) you will love this!
One for the road ...
Two old people were sitting on a bench in the park. One was an elderly man and the other an elderly woman. They were married.
Out of the blue, the old gentleman asks his wife, "How many men have you slept with in your life?"
Startled by the question she says, "Only you!"
Then she adds under her breath "all the others I was awake for!"