Obituary - GLORIA NEWBERGER
Gloria Newberger, mother of Nancy Ludin and Craig Newberger, passed away on December 11, 2022. Gloria was born on May 27, 1928. She was a beloved community member and very active in many charities. Her favorite organization was the Jewish Pavilion. 
In 2003, Gloria moved to Orlando and became an active member of the Friends of the Jewish Pavilion board.
She also volunteered and visited a woman who had been involved in her congregation and sang in her synagogue choir but had never been visited by anyone in the Jewish community. When Gloria first arrived she said, "I thought the Jewish community had forgotten me." She referred to Gloria as her closest friend and guardian angel and saw the Jewish Pavilion as her lifeline.
Gloria led a weekly happy hour and sing-along at several senior communities. She brought tremendous joy and love to the seniors. Gloria's job on the Friends Board was to greet people at Jewish Pavilion events. She hugged and fussed over everyone as they arrived, making each participant feel extra special. 
At a fashion show, she greeted everyone with hugs kisses and compliments as they exited the escalator including people who were simply at the store to shop. Gloria won an award for being the Volunteer of the Year for the Jewish Pavilion. She was active long before her daughter became the CEO. 
She is survived by her daughter, Nancy (Craig Ludin); son, Craig Newberger (Trudy Phillips); five grandchildren — Lauren Bergquist, Daniel Ludin, Heather Newberger, Aaron Ludin and Evan Ludin; and two great-grandchildren — Charlie and Riley Bergquist. Her son Mark Newberger, predeceased her.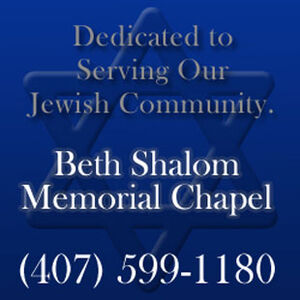 Please join us in remembering the life of Gloria Newberger. Gloria had the nickname "Glow" because she always smiled and gave warmth wherever she went. She touched so many lives and will be remembered with tremendous love. She will be sorely missed.
A celebration of her life will take place on Wednesday, Dec. 21, 2022, at 6:30 p.m. at Oakmont Village Valencia 1021 Royal Garden Circle Lake Mary Florida 32746. Gloria lived at Oakmonte for more than seven years where the staff and residents adored her. 
Donations in her memory may be made to the Jewish Pavilion, 421 Montgomery Road, Suite 131, Altamonte Springs, Florida 32714.  https://jpav.ticketspice.com/tributes
Cards may be sent to her daughter Nancy Ludin, 267 West Lake Faith Drive, Maitland, FL 32751 NancyLudin@JewishPavilion.org and her son Craig Newberger, 1557 Dean Drive Lansdale, PA 19446, Newphi@verison.net.