Obituary - STANLEY BERNARD HANIN
Stanley Bernard Hanin passed away in Boca Raton early on the morning of Wednesday, Feb. 22, 2023.
Stanley was best known in Central Florida for founding Allied Discount Tires, Inc., a chain of discount tire stores made famous by its spokesman Sam Behr's Alabama drawl and the enchantingly honest tagline that "Tires Ain't Pretty."
Stanley was born on July 4,1936, to Clement and Lily Hanin in Philadelphia, Pennsylvania. He admitted he wasn't exactly the easiest child to raise. As he always put it, he never went to a school that he didn't get kicked out of. Eventually his father sent him to military school, where he learned the discipline and tenacity that served him so well in life and business. He left military school early to work with his father, and he learned the tire business at his father's knee.
The formative years working for his father were cut short far too soon when Clem died when Stanley was only 23 years old. Clem left Stanley behind with a bankrupt business, a mother to care for, two younger siblings to raise, and his own family with a newborn daughter. Stanley was in charge: He had no idea what to do, but he had to figure it out, and that is exactly what he did.
Stanley always quoted Churchill to describe one of the most important lessons he learned in life: Success is not final, and failure is not fatal. The lesson was not a cheap one. When he was 37 years old, Stanley made the fateful decision to move his family down to Florida and buy a motorcycle sales business. Within six months the business was defunct. Stanley had failed, but in the ashes of that decision he found a new start, and new success.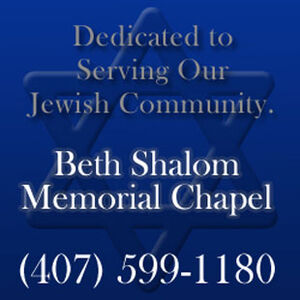 In 1976 he founded Allied Discount Tires, selling tires out of a few square feet in someone else's store. Soon afterwards, he met and married his beloved wife, Frannie, and together they built a life and a business. By the time he sold the business in 1989, it had expanded to 40 stores throughout Florida, including 19 in Central Florida. Stanley and Frannie bought their boat, the Alitsa, and they spent the remainder of his life enjoying early retirement traveling.
Stanley is survived by his loving wife Francine L. Hanin; his children and grandchildren, brother and sister. He will be dearly missed. May his memory be a blessing.
Funeral Services for Mr. Hanin were held Sunday, Feb. 27, 2023, in the Pavilion at Congregation Ohev Shalom Cemetery (6034 Old Winter Garden Road) with Rabbi Geoffrey Spector of Congregation Ohev Shalom Officiating.
Services entrusted to Beth Shalom Memorial Chapel, 933 Lee Road, Suite 101, Orlando, Florida 407-599-1180.