Obituary - JANE LOWENTHAL GLEICK
Jane Lowenthal Gleick, 84, of Maitland and Miami, lost her three-year battle with dementia on March 29, 2023. Born on Feb. 22, 1939, in New York, "Janie" as she was fondly called, touched hundreds, if not thousands, of lives during her lifetime. During her younger years, Jane was involved in the fashion industry. She was the youngest buyer for Jordan Marsh to be sent to Europe to bring the latest styles back to Miami where she would also design the retail store windows. Later she became one of Florida's first "traveling salesladies" for women's clothing representing the Vera Sportswear, among other fashion lines.
Jane was a treasured teacher at Temple Beth Am in Miami where she taught fifth-grade religious school for 22 years. She also taught at Congregation for Liberal (Reform) Judaism in Orlando, and was a reporter for the Heritage Florida Jewish News in the 1990s.
Jane was also the executive director of The Children's Home Society in Miami where she managed a group home for foster children where she raised monetary donations, arranged for volunteer time and organized major events for the children, including a visit from the famous Mr. T. Later, Jane was a major fund-raiser for the Israel Histadrut Foundation and the Alliance for Aging in Miami.
She never said 'no' to someone in need; one of her favorite stories was of the homeless man who lived under a viaduct whom she encouraged to seek assistance, eventually ending up as a crew leader of salesmen.
Throughout her life, Jane was known for her perseverance. After having to abandon her younger college years to help her family, Jane returned to college at the age of 55 and earned her bachelor's degree in Human Resources. Her hobbies included gardening, antique shopping, painting and knitting.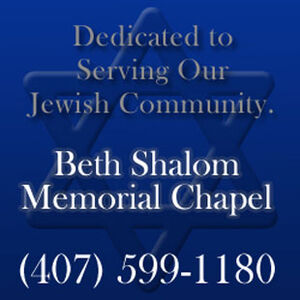 She is survived by her husband, Richard; daughters Dr. Julie (Larry) Kantor and Jodi (Andre) Rouviere, and grandchildren Nicole and Jacob Kantor; Taylor, Zachary, Koby and Sydney Rouviere. Funeral and burial was at Lakeside Memorial Park in Doral.